Tutorial for New Users
Here you will find a step by step guide to downloading, configuring, and running the Einstein Toolkit. The tutorial uses an web-based interface using jupyter notebooks, so no software needs to be installed on your own computer. If you find something that does not work, please email users@einsteintoolkit.org.
Offline usage
If, instead of using the web-based service, you would rather like to run the tutorial on your own laptop, then please use a read only version of the notebook
here
instead.
Online usage
Before you can get started you will require and account on the tutorial server, which is hosted on NCSA Nebula and the National Data Service. Please go to https://etkhub.ndslabs.org/ and to request access and log in. Please allow for 2 business days for this to happen. All data will be deleted after 4 days. Please make sure to download your data before that.
Right now unfortunately there is no option for them to download a directory as a zip file so you may have to create zip file manually first.
Starting the jupyter notebook
Once you account is approved, go back to
https://etkhub.ndslabs.org/
and sign in. You will be presented with a view of the "work" directory which will show its content, which is a single file "CactusTutorial.ipynb".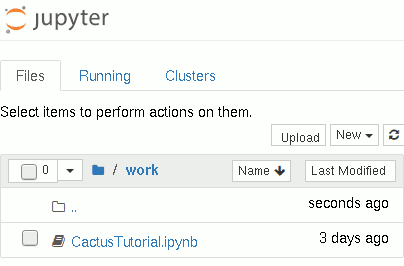 Click on the file and you will be brought to the actual jupyter notebook. From this point on, please follow the instructions in the notebook.